medPhoton GmbH
medPhoton develops & manufactures robotic imaging solutions for image guided radiation therapy & navigated surgery. medPhoton, a Salzburg based company founded as spin-off from radART institute of Paracelsus Medical University and the University Clinic for Radiotherapy and Radio-Oncology in 2012, has developed the ImagingRing technology, the world´s most innovative and patented solution for precise image guided radiotherapy (IGRT). The slim system can be attached to robotic patient couches and allows to remotely image tumour and organs at risk with the patient positioned in the treatment isocenter - in three dimensions and in real time. The x-ray equipment features enhanced soft tissue characterization by dual energy acquistions and cutting edge spatial resolution of image details.
Company details
Karolingerstraße 16
,
Salzburg
,
5020
Austria
Business Type:

Manufacturer

Industry Type:

Market Focus:

Internationally (various countries)

Year Founded:

2001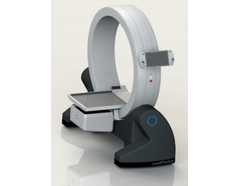 medPhoton´s software provides solutions for Adaptive Radiotherapy (ART) with online- and offline corrections for accurate beam delivery as well as a multiple client server solution for an Oncology Information System (OIS), where the image data can be stored, reviewed and long term archived in the context of radiation therapy, along with referenced treatment plans and dose distributions.
medPhoton´s IGRT solutions have been installed at the ion beam facility MedAustron in Austria and at several proton sites in the USA; a reference project is the Massachusetts General Hospital (MGH) installation in Boston. Recently, a contract has been signed for a long term cooperation with Accuray Inc., manufacturer of the CyberKnife, where medPhoton´s ImagingRing™ technology will boost robotic radiation therapy also with photons in the future.
medPhoton develops and manufactures with local partners and European subsystem suppliers in Austria under a total quality management system complying with regulations of EN-ISO 13485 (CE); the application to clear the ImagingRing technology for the USA was successful with December 2016. Currently, a scientific research network of collaborating universities is being established to further develop the potential of the core technology of the system in clinical translation.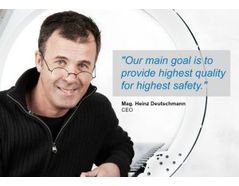 medPhoton develops modern high-end technologies for the application in radiotherapy. Our main goal is to provide highest quality for highest safety and simultaneously making radiotherapy treatments comfortable for the patient. Besides the patients wellbeing we assure optimal occupancy rates of radio therapy treatment facilities due to modest workflows. These goals are achieved by our high competences in software-engineering for radiotherapy and our powerful and highly skilled team of mechanical engineers.

The tight connection to the research and development on Advanced Radiation Technologies (radART) and the University Clinic for Radiotherapy and Radio-Oncology at the Salzburger Landesklinken allows us translational development of medical devices arising from clinical needs in radiotherapy. As a manufacturer of sophisticated medical devices we are aware of producing according to the highest quality standards controlled by our Quality Management System.
2001: Starting the development of a software system for imaging, documentation and archiving in radiotherapy at the department for Radiotherapy and Radio-Oncology at the University Clinic of Salzburg by Heinz Deutschmann.
Continuous improvement and development of the software system by translational research based on continuous usability inputs of the clinical environment.
Clinical integration of the software system after sufficient verification and validation in conformance to the medical device act and actual guidelines.
2007: Foundation of the Institute for Research and Development on Advanced Radiation Technologies (radART) at the Paracelsus Medical University (PMU) of Salzburg
2008: The software is named "open radART"
2009: In order to guarantee and characterize the high standards of quality the software "open radART" is certified according to EN ISO 13485: 2003 + AC 2009.
Spring 2012: The radART-Institute und MedAustron sign a long-term research cooperation.
November 2012: Foundation of the medPhoton GmbH with Heinz Deutschmann as Chief Executive Officer (CEO).
January 2015: CE Clearance for the ImagingRing system
December 2016: FDA 510k Clearance for the ImagingRing system (US market)
December 2016: first patient treated at MedAustron
Since then, the team is constantly growing, including students and graduates coming from information technology and physics. A variety of research projects has been initiated in cooperation with scientific and economic partners.