The mining industry is one of the cornerstones of the global economy, providing essential resources that fuel various sectors. However, mining operations come with a range of challenges, including environmental concerns, safety hazards and the need for efficient data management. Environment monitoring with Room Alert provides an effective, all-encompassing solution to address these issues. Room Alert offers a multifaceted approach to mining operations, encompassing IT and data center-focused applications as well as safety and compliance improvements.
In today's digital age, mining companies rely heavily on IT infrastructure and data centers to manage crucial operations, from mine planning to resource optimization. Room Alert helps safeguard these vital resources by ensuring a stable and secure environment.
Temperature and Humidity Monitoring
Mining data centers generate substantial heat, which can lead to equipment overheating and the catastrophic loss of critical data. The Room Alert platform offers a variety of temperature and humidity sensors that are perfect for data center applications. These sensors can quickly and accurately alert operators to any anomalies and help to prevent costly damage. For example, our Digital Temperature & Humidity Sensor proactively oversees temperature, humidity, heat index and dew point. Room Alert will promptly notify you and your team if it detects the temperature is putting your data center at serious risk for equipment overheating/ failure, irreversible data loss, warping of materials and hardware corrosion. With Room Alert, you can stay in the know and therefore minimize or entirely prevent the impact of these threats.
Power Outage Protection
Power outages pose significant concerns in remote mining areas. Room Alert seamlessly integrates with backup power systems such as generators, ensuring uninterrupted operations for data centers and IT infrastructure during outages. We also offer various power monitoring solutions to combat the approximately 25% of environmental damage resulting from unexpected power loss. Power outages can strike anywhere, at any time. Our patented, award-winning Digital Active Power w/Temperature Sensor is the perfect solution for preventing and mitigating damage caused by power outages, providing real-time power status information for any electrical device attached to an AC electrical cord.
Reduce Operational Costs
By proactively monitoring environmental conditions, mining companies can minimize operational costs in the long run. Maintaining optimal conditions for IT and data centers ensures that equipment runs efficiently and experiences less wear and tear, extending the lifespan of expensive hardware. One of the most impactful ways that Room Alert has been able to save users money is on heating and cooling costs, by identifying areas where energy is being wasted. For example, if Room Alert detects that your data center is consistently reaching temperature and humidity outside of ASHRAE recommended ranges, it will alert you to the issue so your team can take steps to address it. Not only will this insight help you save money on wasted energy, but it also helps you prevent irreversible disaster and data loss. Room Alert can help users maintain optimal temperature and humidity levels, which improve uptime and productivity while reducing operational costs.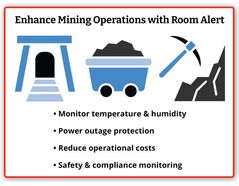 Safety and Compliance Monitoring
Because the mining industry creates dangerous working conditions, it is subject to compliance with the Occupational Safety and Health Administration (OSHA) regulations. The specific OSHA standards and regulations that apply to the mining industry can vary depending on the type of mining (coal mining, metal ore mining, non-metallic mineral mining) and the specific hazards associated with each type of mining. These standards cover a wide range of safety and health issues, including ventilation, hazard communication, electrical safety and more.
Outside of the U.S., many other countries have their own safety agencies with regulations similar to OSHA. For example, the UK has the Health and Safety Executive (HSE). Canada has the Canadian Centre for Occupational Health and Safety (CCOHS). Australia has Safe Work Australia, the national policy body for workplace health and safety. Japan has the Ministry of Health, Labour and Welfare (MHLW).
Room Alert hardware and software has built-in features to help users comply with industry regulations with ease, while also retaining critical data and reports to help mining companies track and document their compliance. With Room Alert, you can streamline regulatory requirements, avoid penalties and keep employees safe.
Room Alert environment monitoring is a versatile and invaluable tool for the mining industry. From ensuring workplace safety to improving IT infrastructure resilience, Room Alert offers a comprehensive approach to addressing the diverse challenges faced by mining companies. In an industry marked by constant change and increasing environmental scrutiny, installing Room Alert is a necessity for mining operations that aim to thrive well into the future.
Most popular related searches